Music Matters Gala: 70k For Music Education!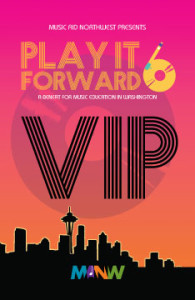 Music Aid Northwest, of which Alan and Gigi White are founding members, held it's sixth annual Play It Forward Gala on Saturday, March 19, at the Triple Door in Seattle, Washington. In addition to his duties on the board of directors, Alan took the stage once again with Cherry Cherry as they paid tribute to Neil Diamond. He was joined by his daughter, Cassi, who is a percussionist as well.
The gala raised over $70,000, which will be distributed though the grant process established by Music Aid Northwest and Washington Music Educators Association.
Music Aid Northwest provides funds to help music programs around the state purchase and repair music instruments and other supplies needed to keep music programs running in our public schools.